Shree Narnarayandev Dvishatabdi Mahotsav
Tuesday 18th - Wednesday 26th April 2023
Shree Swaminarayan Temple - Bhuj
COMING SOON...
Date, times and specific information to follow shortly. 
Highlights of what will happen are as follows.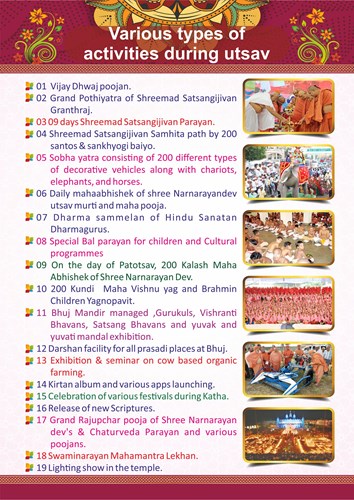 How can I donate:
Online via the site - DONATE

You can now transfer directly via the site or to our bank account directly.
Once you have made the donation, kindly WhatsApp or email us with your full name, address, and payment receipt.
Our WhatsApp - +91 75676 07000
Email - [email protected] 
Stay tuned via our various social media platforms;
Please contact us for further details:
+91 91857 36171 - Sadguru, Upmahant Swami Shree Bhagvadjivandasji
+91 98253 41041 - Sadgurur Swami Shree Devprakashdasji
Or email the Utsav team:
The following activities will take place leading up to the utsav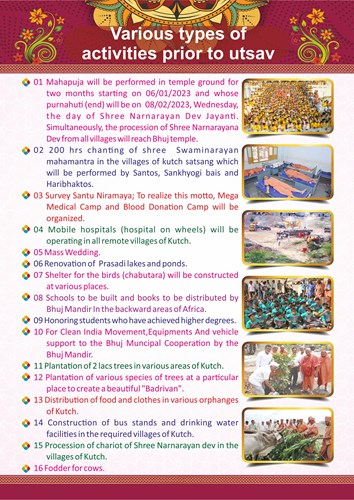 Venue
Shree Swaminarayan Temple - Bhuj
Shree Swaminarayan Road
Tirth Dham
Bhuj, Kutch
Gujarat
370001
India
+91 75676 07000 +91 75676 08000
[email protected]